Today's Top Stories
1
2022 Hyundai Ioniq 5 Production EV Previewed
2
2022 Ford Ranger Will Be a More Appealing Pickup
3
Future EVs: Every Electric Vehicle Coming Soon
4
I Powered My House with the Ford F-150 Hybrid
5
Best Lease Deals: $149/Month and More
Our car experts choose every product we feature. We may earn money from the links on this page.
The refreshed Armada, set to reach dealers by late January, gains a new 12.3-inch infotainment screen and wireless Apple CarPlay capability.
Photography by Nissan
Dec 8, 2020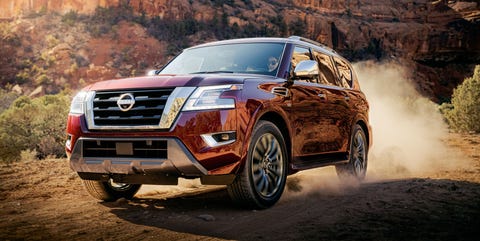 Nissan
The 2021 Nissan Armada is getting a thorough refresh, including new front- and rear-end designs and updated technology. The Armada now has a 12.3-inch infotainment screen along with Android Auto and wireless Apple CarPlay. The 2021 Armada is slated to reach dealers by the end of January 2021, and pricing will be released closer to the on-sale date.
Nissan
1 of 45
Nissan
2 of 45
Nissan
3 of 45
Nissan
4 of 45
Nissan
5 of 45
Nissan
6 of 45
Nissan
7 of 45
Nissan
8 of 45
Nissan
9 of 45
Nissan
10 of 45
Nissan
11 of 45
Nissan
12 of 45
Nissan
13 of 45
Nissan
14 of 45
Nissan
15 of 45
Nissan
16 of 45
Nissan
17 of 45
Nissan
18 of 45
Nissan
19 of 45
Nissan
20 of 45
Nissan
21 of 45
Nissan
22 of 45
Nissan
23 of 45
Nissan
24 of 45
Nissan
25 of 45
Nissan
26 of 45
Nissan
27 of 45
Nissan
28 of 45
Nissan
29 of 45
Nissan
30 of 45
Next
View Photos of the 2020 Kia Sportage SX Turbo AWD
Advertisement – Continue Reading Below
This content is created and maintained by a third party, and imported onto this page to help users provide their email addresses. You may be able to find more information about this and similar content at piano.io