Today's Top Stories
1
VW ID.4 Achieved 190 Miles of Range in Our Testing
2
A CR-V Hybrid Sidles into Our Long-Term Fleet
3
Record Number of Cars Win IIHS Top Safety Pick
4
2021 Jeep Grand Cherokee L Starts at $38,690
5
2021 Editors' Choice: Best New Cars, Trucks, SUVs
Our car experts choose every product we feature. We may earn money from the links on this page.
Despite its humble Ford Escape roots, the Bronco Sport is an impressively capable adventure vehicle for those who choose not to step up to Ford's big Bronco.
Feb 11, 2021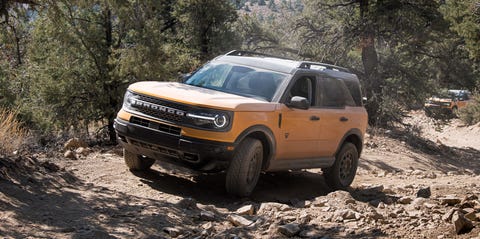 Ford
That Ford's new Bronco Sport can be easily mistaken for the real-deal Bronco will be enough for many buyers. But in top-spec Badlands trim, the baby Bronco has the goods to be even better than we expected when the pavement ends.
Read the full review
Marc UrbanoCar and Driver
1 of 44
2021 Ford Bronco Sport Badlands
Marc UrbanoCar and Driver
2 of 44
2021 Ford Bronco Sport Badlands
Marc UrbanoCar and Driver
3 of 44
2021 Ford Bronco Sport Badlands
Marc UrbanoCar and Driver
4 of 44
2021 Ford Bronco Sport Badlands
Marc UrbanoCar and Driver
5 of 44
2021 Ford Bronco Sport Badlands
Marc UrbanoCar and Driver
6 of 44
2021 Ford Bronco Sport Badlands
Marc UrbanoCar and Driver
7 of 44
2021 Ford Bronco Sport Badlands
Marc UrbanoCar and Driver
8 of 44
2021 Ford Bronco Sport Badlands
Marc UrbanoCar and Driver
9 of 44
2021 Ford Bronco Sport Badlands
Marc UrbanoCar and Driver
10 of 44
2021 Ford Bronco Sport Badlands
Marc UrbanoCar and Driver
11 of 44
2021 Ford Bronco Sport Badlands
Marc UrbanoCar and Driver
12 of 44
2021 Ford Bronco Sport Badlands
Marc UrbanoCar and Driver
13 of 44
2021 Ford Bronco Sport Badlands
Marc UrbanoCar and Driver
14 of 44
2021 Ford Bronco Sport Badlands
Marc UrbanoCar and Driver
15 of 44
2021 Ford Bronco Sport Badlands
Marc UrbanoCar and Driver
16 of 44
2021 Ford Bronco Sport Badlands
Marc UrbanoCar and Driver
17 of 44
2021 Ford Bronco Sport Badlands
Marc UrbanoCar and Driver
18 of 44
2021 Ford Bronco Sport Badlands
Ford
19 of 44
2021 Ford Bronco Sport Badlands
Ford
20 of 44
2021 Ford Bronco Sport Badlands
Ford
21 of 44
2021 Ford Bronco Sport Badlands
Ford
22 of 44
2021 Ford Bronco Sport Badlands
Ford
23 of 44
2021 Ford Bronco Sport Badlands
Ford
24 of 44
2021 Ford Bronco Sport Badlands
Ford
25 of 44
2021 Ford Bronco Sport Badlands
Ford
26 of 44
2021 Ford Bronco Sport Badlands
Ford
27 of 44
2021 Ford Bronco Sport Badlands
Ford
28 of 44
2021 Ford Bronco Sport Badlands
Ford
29 of 44
2021 Ford Bronco Sport Badlands
Ford
30 of 44
2021 Ford Bronco Sport Badlands
Next
1956 Mercedes-Benz 300SL Photos
Advertisement – Continue Reading Below
This content is created and maintained by a third party, and imported onto this page to help users provide their email addresses. You may be able to find more information about this and similar content at piano.io