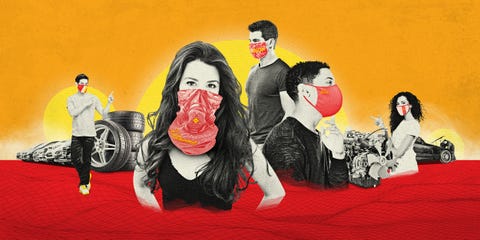 Ryan OlbryshCar and Driver
Import Bible Oil Slick Mask Version 2
importbible.com
$15.00
BUY IT HERE
You might be familiar with the high-quality shirts from Import Bible, but they've recently added a new product to their shop. Inspired by the HKS tuning company's livery from the early 1990s, fans of the Japanese Touring Car Championship will immediately recognize these colors. The mask is made of 100 percent polyester fabric and comes with a package of PM2.5 five-layer filters that can be easily replaced for future use. Designed, manufactured, and shipped from Canada.
Blipshift 787 Mask
Blipshift
Blipshift Blipshift
$16.00
BUY IT HERE
Relive the good old days with this Mazda 787-inspired mask from the T-shirt folks at Blipshift. You can't see these colors and not hear the scream of the high-revving, high-horsepower 2.6-liter four-rotor Mazda. Unfortunately Renown, an apparel company and sponsor of the Mazda 787B that won Le Mans in 1991, filed for bankruptcy amid quarantine. These masks come with a pretty great disclaimer: "These are not medical masks so if you're going to perform brain surgery, study hard and go to med school instead."
K&N
knfilters.com
$19.99
BUY IT HERE
Better known for their aftermarket air filters that promise horsepower bumps for cheap, K&N is now offering a product for your intake too. Available in black, silver, and camouflage, these adjustable masks will fit any size melon no matter the model year. Each mask is made with moisture-wicking material and silver ions to help fight bacteria and odors. A third strap keeps the mask hung to your chest for those moments when you it's not necessary to have it on your face. It's a simple look other car people will recognize immediately.
Renault DP World F1
Renault
Renault F1 Renault F1
€14.99
BUY IT HERE
Look like one of the crew with this triple pack of Renault F1 masks. They offer a protection efficiency against the virus of up to 90% and are strong enough to hold-back the giant smile of Daniel Ricciardo. Washable and reusable, these come with a suggested use time of up to four hours. A portion of the profits from each sale will be donated.
STRIIPE Interlagos Plaid
STRIIPE
Striipe STRIIPE
$16.00
BUY IT HERE
This California-based company is all about celebrating motorsport heritage, and looking sharp. Although Striipe Design is mostly known for socks made from high-quality recycled yarns, they can't seem to keep these beautiful racing-inspired masks in stock. Made of 95 percent polyester and 5 percent elastane, their masks are easy to wear and breathe through. It's the best excuse to wear something that matches the seats in your GTI.
Ford Community
Ford
fordlifestylecollection.com
$9.90
BUY IT HERE
Ford showed up during this pandemic in some pretty clever ways. Earlier this year, it partnered with 3M to make respirators hospitals so desperately needed, and they built them using the ventilation fans from the F-150's seats. Now, at least in Europe, Ford is selling these stylish blue polyester masks. These are also washable and reusable, but Ford suggests replacing them after 50 washes. The Ford Lifestyle Collection also offers a Mustang design, and red, white, grey camouflage mask.
Road & Track Striped Mask
roadandtrack.com
$16.00
BUY IT HERE
Our friends at Road & Track have teamed with S to make these stylish one-size-fits-all polyester masks. They're double layered and use moisture-wicking materials with replaceable filters to keep the bad air out. Yes, it's the same mask the Road & Track staff wore at Performance Car of the Year, how cool is that?
NASCAR Mask
NASCAR
NASCAR NASCAR
$24.99
BUY IT HERE
Raise hell and praise Dale with this collection of masks from the NASCAR store. Each mask in this three-pack bundle is made of 88 percent polyester and 12 percent spandex with a cotton liner. Other team-specific face coverings are also an option, but unfortunately Denny Hamlin's face is not one of them. Think of these as an all-access pit-pass to the beer cooler at your local grocery store. 
AudiClubNA Avant Appreciation Mask
AudiClub North America
AudiClubNA AudiClubNA
$8.00
BUY IT HERE
Being a member of Audi Club North America has its perks, like discounts on parts and services at participating dealerships, a subscription to the award-winning quattro magazine, and even up to 6 percent off MSRP on your next Audi. And where else can you get a mask with a 1992 Audi RS2 Avant on it? These are made from polyester, spandex, and cotton, and made in the United States. 
DirtFish Face Mask
DirtFish dirtfish.com
$6.50
BUY IT HERE
Get to the next stage with these Dirtfish Rally cloth masks from one of the best racing schools in the U.S. These use a double layer anti-microbial material made of 100 percent cotton to keep the nasty out. Unlike cheap paper masks, you can wash and reuse them, and they suggest 40 washes is the limit before the anti-microbial quality starts to diminish. Disclaimer: Not intended for tying body panels back onto race cars after heavy offs, but they're not against the rules either.
McLaren We Race As One Team U-Mask
McLaren
McLaren F1 mclarenstore.com
$45.00
BUY IT HERE
These are the same masks worn by the McLaren F1 team on race weekends. They're also the most expensive on the list, here's why. These Italian-made masks are comparable to an FFP3 surgical mask. That's the European standardization to measure how effective any mask can keep very fine particles, even asbestos, out. And FFP3 means these have a 99-percent filtration promise for 200 hours of use. They're made of recycled nylon thread from ocean plastic with spandex, polyurethane, and polyester.
Fortune God Beetle Mask
Fortune God
Fortune-god Fortune God
$4.59
BUY IT HERE
Volkswagen squashed production of the Beetle after 65 years in 2019, as it focuses on future electric models. The Bug, always be in our hearts, can now be worn on our faces, too, thanks to these Volkswagen-inspired masks from Fortune God. These are made from 100 percent polyester and use two carbon filters with replaceable protection. 
M-Sport Black Mask
M-Sport
M-Sport M-Sport
£10.00
BUY IT HERE
The World Rally Championship (WRC) hasn't been back to the United States since Group B cars in 1988, but it should return. Just like you should know about M-Sport. They've been the brains behind Ford rally cars and the Bentley Continental GT3 from the Blancpain GT Endurance series. They have a partnership with Jaguar's I-PACE eTROPHY, too. They're cool, they're smart, and they love fast things. Look the part with these reusable masks that are good for 30 washes. 
NHRA Extreme Sport Neck Gaiter
NHRA
NHRA nitromall.com
$18.00
BUY IT HERE
This might be the wildest design of the bunch. A throwback to the vintage masks used in the 60s and 70s by dragsters. These top-fuel neck gaiters protect more than just your mouth, and are arguably easier to wear than a traditional face mask because they can be pulled down and fit around your head rather than hang from your ears. Although wearing the real thing from the wilder days of drag racing would be the ultimate flex. It might also horrify people at banks. 
Ford GT40 Gulf Oil-inspired Mask
ArtoftheCar
The Art of the Car The Art of the Car
$17.99
BUY IT HERE
The Gulf Oil livery has been painted on many different race cars, but it looked especially good on the Ford GT40s that dominated Le Mans in the 1960s. This design from The Art of the Car is inspired by the 1969 Ford GT40. These use a two-ply polyester cloth and have elastic loops for the ears. A portion of each sale is donated the worldwide health organization MedShare.
This content is created and maintained by a third party, and imported onto this page to help users provide their email addresses. You may be able to find more information about this and similar content at piano.io