Today's Top Stories
1
Our Hyundai Veloster N Got Better with Age
2
Tested: 2022 Mitsubishi Outlander Ups its Game
3
2022 Jeep Compass Will Have a Nicer Interior
4
Tested: 2022 Kia Carnival Dresses Up the Minivan
5
15 Cheapest 2021 Luxury Cars and SUVs
Our car experts choose every product we feature. We may earn money from the links on this page.
Live out your wildest fantasies from a lowly car-heist criminal to a celebrated F1 championship driver with these awesome driving games.
Dec 3, 2020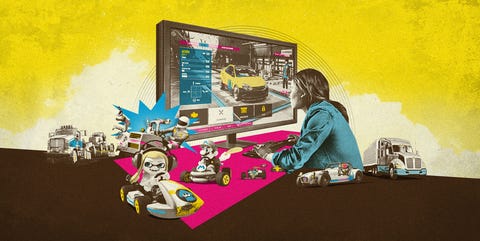 Ryan OlbryshCar and Driver
Advertisement – Continue Reading Below
Art of Rally
$24.99
BUY IT HERE
Art of Rally pays homage to rally racing history with gorgeous low-poly graphics and fulfilling gameplay. In Career mode, you begin with older 1960s rally cars like the Mini Cooper or BMW 2002 and compete up through the decades and at increasingly higher levels. It's an indie title, and so the cars aren't licensed and only are only loosely based on rally's all-time greats, but it's obvious which car is an Audi Quattro S1 Group B racing car, and what's a Subaru WRX STi. In Free Roam mode, explore beautifully rendered hillsides, cities, and plains across a make-believe world, and take part in scavenger hunts to unlock more cars. Time trials are fun if you're looking to compete on specific stages and compare times on a global leaderboard. Art of Rally's simplicity helps bring out the details that matter in a racing game, the most obvious being a good time. There's no forced story with cheesy dialogue, and there's no giant advertisements plastered with car logos, so it's a breath of fresh air in terms of today's racing games. It has a giant selection of cars and sharp details like glowing-hot brake rotors that allow players to pull the handbrake on the fun however they want. It's available on Steam, GOG, and the Epic Games Store.
Wreckfest
THQ Nordic
$29.99
BUY IT HERE
Wreckfest is just good, old fun. While wrecking is the name of the game, that's not all this modern title has to offer. It's also a bona-fide racing game with solid vehicle dynamics and realistic crash modeling. Motorized couches and car-eating harvesters, however, stand as a reminder that you're playing a game like no other. If you feel like testing your mettle with other players, there's an online game-play mode. The more introverted, however, have access to a vast selection of single-player events.
Stuntman: Ignition
$14.99
BUY IT HERE
Who hasn't dreamed of being a stuntman? Stuntman: Ignition follows the life of a Hollywood stuntman hungry for stardom. Players have to perform a variety of picture-perfect tricks behind the wheel of several types of vehicles. Released in 2007, this game may take a bit for the casual player to get into. Still, we think trying and trying and trying again to pull off the perfect stunt is a great way to fill a rainy day. Action!
Gran Turismo Sport
Michael Simari
$4.00
BUY IT HERE
If you're playing Gran Turismo Sport with a controller, you're doing it wrong. GT Sport is the marque's latest release, and it adds layers of polish to previous titles. This latest version's bread and butter is online play, which continues to move the series away from its roots. Where older versions sat squarely in the arcade category, GT Sport blurs those lines with simulation-quality vehicle dynamics and realistic wheel-to-wheel action. If you haven't caught a live national event yet, we suggest subscribing to their YouTube channel to watch the entertaining FIA-certified National and Manufacturer Series Championships.
My Summer Car
$14.99
BUY IT HERE
Typically, survival games simulate what it's like to have to eat, drink, and fight zombies. My Summer Car nixes the latter for the sake of an odd little narrative and a project car. Prepare to be lost in rural Finland as you put together a Datsun 100A look-alike. Earn money emptying septic tanks or selling kilju (home-brewed wine) to your alcoholic neighbor who has no intention of recovery. This indie title is rich with humor and silliness, and it breathes new life into a genre that often smells like diesel fumes and cigarette smoke. It's a good time.
Forza Motorsport 7
$37.90
BUY IT HERE
Forza has always been a visceral game, and the current installment, Forza 7, does a great job continuing that legacy. The game's biggest strength is its variety, offering players the ability to pilot more than 700 unique vehicles. Want to race a trophy truck? It's here. Want to race an Arctic-ready Land Cruiser? Sure. And the list goes on. Forza 7 takes the best aspects of a racing sim and arcade driving game and smashes them together into a high-octane digital meat pie.
American Truck Simulator
$4.99
BUY IT HERE
They can't stay home, they're truck drivers! But now you can stay home and pretend to be a truck driver with American Truck Simulator. Your goal is to deliver the goods and make money, upgrade your trucks, buy new ones, and hire drivers. You know, you get to build the biggest and best trucking business out there. The game takes place in a world geographically similar to the western United States, and you visit cities like Las Vegas, San Diego, Phoenix, and Seattle. Under the current advisory against travel, ATS might be the best way to visit cities in the west.
Teardown
Austin Irwin
$19.99
BUY IT HERE
If you love watching the world burn, you'll love Teardown. Every car, boat, front-end loader, dump truck, and random other vehicle is drivable. And you can drive them through anything you like: a wall, a house, a building, or into each other. Even the watercraft sinks into the lake if you shoot enough holes into it, but destruction isn't the only point of this game. Each level starts with specific objectives that can be completed in however long it takes to prepare, but once the alarms ring, the countdown begins. And once that timer starts, you'll need to be able to string enough objectives together to escape without being caught. Making a tunnel through multiple buildings to gain access to another objective is a must. Shotguns, grenades, torches, and a handy fire extinguisher are a handful of tools you're able to use to aid your efforts. It's a driving game, but one that requires just enough strategy game to balance your ability to do whatever the hell you want. The automotive physics might not be the most realistic but seeing the roof of a minivan peel back and crumble after driving through a warehouse wall never gets old.
NASCAR Rumble
BUY IT HERE
Dust off the PlayStation and get ready to rumble. As if real NASCAR wasn't wild enough, NASCAR Rumble cranks everything up a few notches. Think of Jess Harnell, the game's omnipresent voice from on high, as your personal spotter motivating you to bump and grind your way to success. Instead of just trading paint, players can employ everything from oil slicks to natural disasters in their effort to get ahead. Which means yes, you can send a tornado to take first place in this smash hit.
iRacing
Clive Rose
$9.99
BUY IT HERE
iRacing is the king of racing simulators. Used by new and professional racers alike, this simulation gives its players access to a broad network of top-notch competitive series and championships. So, what's the catch? Well, for some it's the $12 per month it's going to cost you to play. For anyone looking for a serious, intense, and rule-based way to virtually improve your real-life skills on the track, however, this is it.
Need for Speed Heat
$69.99
BUY IT HERE
Like all the NFS games before it, Heat arrives with intense street racing and relentless police officers. The game features plenty of great, customizable cars with options ranging from paint jobs to engine tuning. There's a companion app called Need for Speed: Heat Studio, which allows you to customize cars in the app and then send them to your game. The story mode is engaging, and the police chases are ruthless, as are the street racers you face off against.
Mario Kart 8 Deluxe
$59.99
BUY IT HERE
The latest installment of a perennial favorite, Mario Kart 8 Deluxe is available exclusively on the Nintendo Switch. For those of you who have been away from the Mario Kart series, worry not, as 8 Deluxe is as true as ever to the original Super Mario Kart that came out in 1992 on SNES. You still have wacky tracks, an arsenal of items, and a character lineup that's only grown since the original. Recent versions have added gliders, underwater racing, motorcycles, and vehicle customization, all of which only add to the entertainment. No matter how long you're stuck at home, chances are you'll still have fun playing Mario Kart.
Assetto Corsa Competizione
$34.99
BUY IT HERE
Do you yearn to try your hand at an endurance race without the perils associated with driving for such a long period of time? If so, we would highly recommended Assetto Corsa Competizione for you. It sets itself apart from traditional racing simulator games thanks to its unique game-play choices, including two different weekend racing options, one of which simulates an endurance race like the 24 Hours of Spa. The game is an officially licensed simulation of the 2018 and 2019 Blancpain GT Series for both sprint and endurance races. It also serves as a major e-sports platform for serious gamers. If you've got extra time on your hands, maybe that's an avenue you'd want to explore with Assetto.
Auto Modellista
$64.45
BUY IT HERE
This is undoubtedly the most meta game on our list. Its designers at Capcom made something special by applying a cel-shading style to the visual design, which gives it an anime-like feel. Despite the game's variety of modification and vehicle-tuning options, Auto Modellista died upon its release because of subpar driving dynamics. Seventeen years later, however, it's aged handsomely and is one of the most interesting games of the last 20 years. 
Tokyo Xtreme Racer Drift 2
$34.99
BUY IT HERE
Drift 2 might be the most nostalgic game on this list. That's not because it was wildly popular, because it wasn't, but because its artistic simplicity and angsty-teen intro music remind you of that one summer back in '08. Ignoring the fact that Adam Sessler told those who originally bought the game to throw it in the trash, Tokyo Xtreme Racer: Drift 2 is more than meets the eye. It's Play Station 2's version of Pong. Crack a fresh can of iced tea, grab that grease-covered controller, and spent an entire day reliving your formative years. You'll thank us later.
Road Rash: Jailbreak
Road Rash: Jailbreak is the type of game best played with a friend. It's got terrible graphics, it's silly, and it's about as simple as a Metallica drum beat. But all of that gives it a bit of novelty. The objectives of this motorcycle game are fairly straight forward: Win by any means necessary. Depending on the character you select, that could mean whipping opponents off their motorcycles with a chain, tipping them over with a few well-placed kicks, or out-maneuvering them with help from a buddy riding in your sidecar. Finding this game for sale is nearly impossible, but surely there's an emulator out there that can keep the heart of this classic beating.
This content is created and maintained by a third party, and imported onto this page to help users provide their email addresses. You may be able to find more information about this and similar content at piano.io
Advertisement – Continue Reading Below